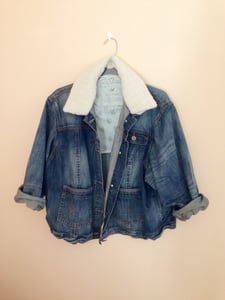 $

75.00
I call this my Brokeback jacket - it looks like something you would wear in a beautiful Montana field. Pair it with a pretty knee length skirt for a sweet look or with a cigarette pant and clutch if you're city folk. It's perfect!
Oversize blouson cut - roomy and chic. Pretty 3/4 cut sleeve. Beautiful and detachable sherpa style collar. Distressed wash. Copper button and stitching. Floral partial lining.
Condition: NEW without tags.
Brand: River Island UK
Size: UK18 (would fit US 16/18 with room to spare)
Free Shipping to the USA with delivery confirmatio