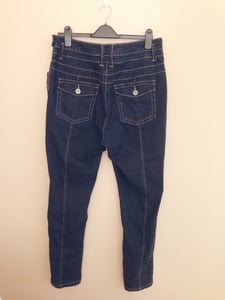 $

60.00
I had to import these jeans from Australia back before they delivered to the US. It was quite a feat but worth it for these super sexy jeans. I bought them because they remind me of seamed stockings! There is a stitching running down the legs. I've never seen jeans like this! So RARE for plus size.
People will hate to see you go but love to watch you leave.
Important details: Flat front, no pockets, side zipper, back pockets have button closure. Regular inseam. Dark wash.
Condition: Near mint. Only worn a couple times.
Size: AU18. Will fit a 16/18 best.
Free shipping to the USA + delivery confirmation included.
Contact me if you need measurements.
MORE PICTURES COMING - I am including the ones from one of the last times I wore these.